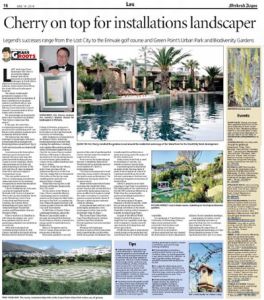 Cherry on top for installations landscaper
by Kay Montgomery (2014-06-14)
Eric Cherry is recognised as a legend of the landscaping world with his recent Honorary Lifetime Achievement Award from the South African Landscapers Institute.
This article from the Weekend Argus June 2014 looks at his career from the landscaping of the Lost City for Sol Kerzner, to the Green Point Urban Park, the One&Only Hotel at the Waterfront and further contributions to the green fabric of Cape Town in the indigneous landscaping of the MyCiti bus central lane.
His most recent project has been the new heirloom Dutch Vegetable Gardens in the Company Gardens as one of Cape Town's 2014 Design Capital of the World projects.
To read the whole article - Click Here