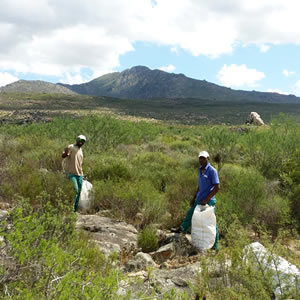 Environmental Rehabilitation and Hydroseeding in the Olifants River Valley
by Kit Heathcock (2015-10-27)
Urban Landscape Solutions and our sister company New Horizen Nursery have been busy completing a major rehabilitation project at Citrusdal in the Cederberg. This project entails the restoration of the unique endemic vegetation of an area of over 30 hectares of road verges and cut- and fill-slopes alongside the N7, after major road construction work.
The preparatory work for a rehabilitation project such as this happens over a year or more, with Gert and his team making numerous trips to the area. "It is a labour of love due to it being so hands on" he comments. "Search and rescue" is one major element of the preparation, "searching" for plants on the site before earthworks begin to "rescue" them from destruction before the clearing or blasting begins. These plants are either relocated to safe areas on site or taken to New Horizen Nursery and planted in containers to be returned to the same area once the construction work is complete.
Seed collection is another important component of the rehabilitation process - the seeds being collected over a period of 6-10 months to ensure diversity. "In this brief the requirement was for all seeds and plant material to be collected within a 10km radius of the area," adds Gert, "so that the plant genetics remain pure and only plants endemic to that exact area are returned to it during rehabilitation." Both collection of plant material for propagation and seed harvesting are done strictly according to government and environmental regulations.
Once the roadworks are finished and the saved topsoil has been returned to the area, it's time for our Finn Hydroseeder to go into action to reintroduce the endemic seed collected from the site. The hydroseeder is filled with a specified mix, consisting of a combination of seed collected from site (pre-soaked in a smoke seed primer), organic fertiliser, water soluble polymer (soil binder) and microbial inoculants. Inside the tank there is an agitator to mix everything continuously. This prevents the heavier seeds from falling to the bottom and ensures an even and effective mixture of seed and fertiliser being spread.
Other rehabilitation and environmental projects that we are currently working on span a diversity of sites and environments. These include the Rietenbosch Wetland in the Winelands and Cogmanskloof between Montagu and Ashton. We are proud to be undertaking projects of this scale and significance and continue to work at rehabilitating and protecting the environment.
Environmental rehabilitation and hydroseeding in the Olifants River Valley
Planting in the Olifants River Valley, Citrusdal