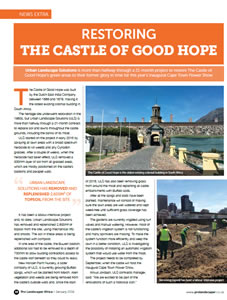 Restoring The Castle of Good Hope
by Pro Landscaper Africa (2016-01-20)
Urban Landscape Solutions is more than halfway through a major project to restore all the grassed areas and embankments at Cape Town's Castle of Good Hope.
Involving removing and replenishing top soil, removing alien vegetation, and replanting with buffalo grass, the project is set for completion in time for the inaugural Cape Town Flower Show in September 2016.
Here's a detailed article about the restoration in Pro Landscaper Africa - January 2016.
To read the full article - Click Here