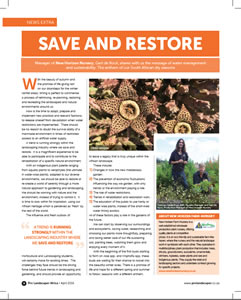 Save and Restore
by Gert de Kock for Pro Landscaper Africa (2016-05-05)
New Horizen's Production Manager, Gert de Kock, looks forward to a new wave in landscaping of indigenous water-wise plants and a more natural approach to gardening. Save and restore is the message, using our African plant heritage to create something fresh and sustainable.
With this approach gardens no longer have to be scenes of devastation when water restrictions are implemented, we are working with nature instead of trying to control it.
There are exciting changes happening in the horticultural and landscaping industry, including rehabilitation and restoration work, and the education of the public in water-wise gardening.
Here's a detailed article in Pro Landscaper Africa - April 2016.
To read the full article - Click Here